PANTHERx® Specialty Pharmacy's Chairman & CEO, Dr. Gordon J. Vanscoy presented Matthew Misorski, Pharm.D., with a certificate in recognition of his completion of the PANTHERx® Specialty Pharmacy Fellowship Program. Under the guidance of the program director Douglas Gebhard, Pharm.D., MBA, Dr. Misorski intensely trained in Business & Pharmacy Operations, Quality Improvement, Clinical & Education, Pharmacy Analytics & Reporting, Business Development, Strategic Partnerships, and Managed Markets.
"PANTHERx® gave me an amazing opportunity to develop as an advanced practice pharmacist and understand the complexities that come with organizing and operating a top tier specialty pharmacy," said Matthew Misorski, Pharm.D., when asked to reflect on his time as a PANTHERx® Specialty Pharmacy Fellow. "With my new skill set in hand, I have now accepted a new opportunity with PANTHERx® as a Clinical Informatics Lead."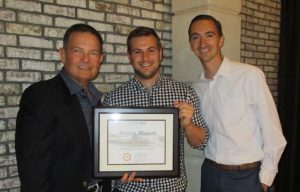 "The PANTHERx® Specialty Pharmacy Fellowship Program combines academic rigor in a cutting-edge practice setting and offers a unique and structured opportunity to interact with patients afflicted with rare and devastating diseases, healthcare providers, health plans and biotech manufacturers to effectively optimize patient outcomes," said Dr. Gordon J. Vanscoy, Chairman and CEO at PANTHERx® Specialty Pharmacy.
The completion of PANTHERx®'s first fellowship year ushered in a promising second. Under the new program leadership of Richard Faris, Ph.D., R.Ph., PANTHERx® Specialty Pharmacy, The Rare Disease SP®, will double the number of fellows for the 2018-2019 Fellowship year. The one-year program offers an estimated three years of specialty pharmacy experience, enabling each fellow's competence in the clinical, research, and business aspects of specialty pharmacy management. PANTHERx®'s Fellowship Program becomes even more rigorous and enriching this year with an increased focus on research, big data, data-driven program design, precision medicine, and scientific publications.
For more information on PANTHERx®'s Specialty Pharmacy Fellowship Program please visit: https://www.pantherxrare.com/education/