PANTHERx® Chairman and CEO, Gordon J. Vanscoy, was honored on October 12, 2017 with the highest honor bestowed by the University of Pittsburgh to its alumni, the University of Pittsburgh Distinguished Alumni Fellow Award.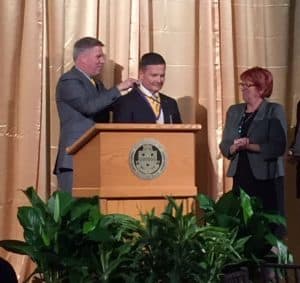 "Every professional opportunity that I pursued, I embarked on with a single purpose in mind, to innovate and improve the quality of life for others while giving back to those who have given me so much." said Dr. Vanscoy.  "I am humbly grateful for this extraordinary recognition."
This prestigious award was presented by Chancellor Patrick D. Gallagher at the University's Distinguished Alumni Fellows Dinner, which takes place annually during homecoming festivities (http://www.alumni.pitt.edu/news-events/news-stories/2017-distinguished-alumni-fellows/). Honorees are recognized for an outstanding level of personal and professional achievement as well as extensive service to the community.