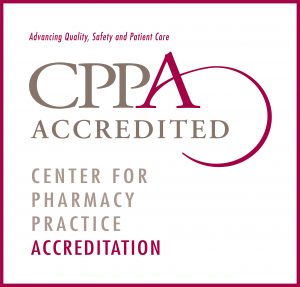 Press Release originally published on PRNewswire
PITTSBURGH, PA – The Center for Pharmacy Practice Accreditation (CPPA), a partnership of pharmacy-based organizations, announced today that it has awarded specialty pharmacy practice accreditation to PANTHERx Specialty Pharmacy.
"Achieving CPPA accreditation demonstrates PANTHERx's commitment to best in-class clinical programs to support our patients with rare and devastating conditions and their unique needs." states PANTHERx Specialty Pharmacy Chairman & CEO Dr. Gordon J. Vanscoy. "Having a reputable organization like CPPA validate our advanced clinical services and white-glove approach to patient care affirms our mission to redefine the level of care provided in specialty pharmacy."
CPPA's mission, which is unique among accreditors, is to serve public health by raising the level of pharmacy‐delivered patient care services through accreditation. CPPA provides a standardized method for recognizing exceptional pharmacy practices that promote practice innovation and empower pharmacists to practice at a higher level. CPPA recognizes pharmacy practices that are committed to fostering medication safety and effectiveness, ensuring continuous quality improvement, and facilitating desired patient health outcomes.
Specialty medications are often expensive, require unique handling procedures, and involve complex treatment regimens that necessitate ongoing clinical monitoring and patient education. "Ensuring that specialty pharmacies provide services that help patients achieve desired, cost-effective outcomes is a key component of CPPA's specialty pharmacy accreditation," said CPPA Chairman and APhA Executive Vice President and CEO Thomas E. Menighan. "CPPA's accreditation of PANTHERx Specialty Pharmacy provides an important recognition that its pharmacy services support these goals."
By providing a superior level of clinical care, PANTHERx consistently achieves unsurpassed levels of patient engagement and overall patient satisfaction. In May of 2017, at the Asembia Specialty Pharmacy Summit, Zitter Health Insights and Specialty Pharmacy Times recognized PANTHERx Specialty Pharmacy as the winner of the Specialty Pharmacy Patient Choice Award, based on Zitter Health Insights 2016 Patient Satisfaction Survey data.
In addition to achieving CPPA Accreditation, PANTHERx Specialty Pharmacy holds URAC and Accreditation Commission for Health Care (ACHC) accreditations, making PANTHERx one of only four specialty pharmacies in the nation to attain three specialty pharmacy accreditations from these prestigious accrediting agencies.
About CPPA
The Center for Pharmacy Practice Accreditation (CPPA) is a nonprofit organization established in 2012 through a partnership of the American Pharmacists Association (APhA), the National Association of Boards of Pharmacy (NABP), and ASHP (American Society of Health-System Pharmacists) to recognize pharmacy practices for providing patient care services that improve health outcomes and contribute to lower health care costs. The CPPA mission, unique among accreditors, is to raise the level of pharmacy-delivered patient care services through accreditation and, thus, serve the public health. These three organizations saw a need to establish standards to meet the public's need for specific, predictable, and measurable pharmacist clinical services across the medication use continuum.
About PANTHERx Specialty Pharmacy
PANTHERx Specialty Pharmacy, THE Rare Disease Specialty Pharmacy®, is a national, triple-accredited, specialty pharmacy headquartered in Pittsburgh, Pennsylvania. PANTHERx Specialty's mission is to transform lives by delivering medical breakthroughs, clinical excellence, and access solutions to patients afflicted with rare and devastating conditions. PANTHERx works daily to Reinvent Specialty, Revolutionize Pharmacy, and Redefine Care®, by developing focused solutions, bold innovations, and novel clinical services associated with life-transforming therapies.