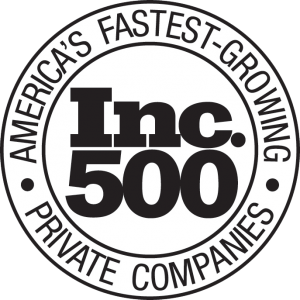 PANTHERx Rare Pharmacy announces that it has, for a 4th time, been named to the Inc. 5000 list, celebrating the fastest-growing private companies in America. PANTHERx is being recognized on this prestigious national list as the 268th fastest growing company overall and the 26th fastest growing company in Health. Regionally, PANTHERx is the #6 fastest growing company in Pennsylvania and #1 in Pittsburgh.
Click here to view PANTHERx's Inc. 5,000 profile.
About Our Inc. Standings
Over the last 40 years, tens of thousands of companies have applied to the Inc. 5,000 and only a fraction have made the list more than once. This year PANTHERx Rare joins the exclusive group of 1 in 13 companies has made the Inc. 5000 list 4 times. PANTHERx is one of only 12 companies in Pittsburgh to make the 2019 Inc. 5,000 list. With a 1,634.7% three-year revenue growth rate and $726.1 million in 2018 revenue, PANTHERx is in the top 10 percent of the Inc. 5,000 in both revenue categories.
Of the 42 companies in the Inc. 5,000 Health category, PANTHERx ranks in at #26 for growth and #1 in 2018 revenue, accounting for $726.1 million of the Health category revenue of $2.9 billion. Analysis reveals that PANTHERx had the #1 highest revenue of the top 500 companies on the 2019 list.
"PANTHERx Rare is proud to be ranked on the Inc. 5,000 list for a fourth consecutive year. Over the last 12 months we opened a new state-of-the-art facility and we are filling it, we launched a new brand and we are celebrating it, and we created a new industry and we are continuing to define it. This is an exciting time for PANTHERx Rare as we grow in every definition of the word," said Dr. Gordon J. Vanscoy, Chairman and CEO. "We continue to innovatively and attentively address the needs of our partners, prescribers, and, most importantly, our patients; it is for them that we grow and evolve while defining the rare pharmacy industry."
PANTHERx Rare will be recognized among other Inc. 5000 honorees at the 40th Annual Inc. 5000 Conference and Awards Ceremony, taking place October 10-12, 2019 in Phoenix, Arizona.
About PANTHERx Rare Pharmacy
PANTHERx Rare Pharmacy, The Rare Disease Specialty Pharmacy®, is headquartered in Pittsburgh, Pennsylvania. PANTHERx Rare's mission is to transform lives by delivering medical breakthroughs, clinical excellence, and access solutions to patients afflicted with rare and devastating conditions. Every day we Define RxARE®, by developing focused solutions, bold innovations, and novel clinical services associated with the life-transforming therapies that we deliver.
PANTHERx was awarded 2018 Specialty Pharmacy of the Year by the National Association of Specialty Pharmacy as well as the American Pharmacy Purchasing Alliance. Zitter Health Insights awarded PANTHERx the Specialty Pharmacy Patient Choice Award winner for both 2017 and 2018. As a quad-accredited pharmacy, PANTHERx holds accreditations from URAC, VIPPS, ACHC, and CPPA.