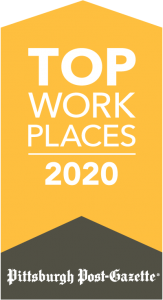 PANTHERx Rare is proud to announce that it has been awarded a 2020 Top Workplaces by the Pittsburgh Post-Gazette. Awardees are determined by associate feedback to an anonymous survey facilitated by Energage. The survey measures 15 identified drivers of engaged cultures and successful organizations, including alignment, execution, and connection. This year PANTHERx is one of only 93 companies to make the Pittsburgh Post-Gazette's List of Top Workplaces.
"PANTHERx has a rich history of success with 'Top Workplaces Awards'. It is an immense point of pride for our organization and its leaders that our associates are happy to work at PANTHERx," said Dr. Gordon J. Vanscoy, Chairman & CEO of PANTHERx Rare. "The deep roots of our culture and laser focus of our social mission has allowed PANTHERx's workplace atmosphere to thrive, even during these times where we cannot be physically present with each other in the same capacity that we used to be. It is amazing that PANTHERx's culture truly transcends the walls of our offices, and instead lives in each of our associates as they carryout their duties for the benefit of our rare disease patients."
PANTHERx Rare will be recognized among other Pittsburgh Post-Gazette Top Workplace honorees at a virtual event in the coming weeks.
About PANTHERx Rare
PANTHERx Rare Pharmacy, the largest independent and fastest growing specialty pharmacy in the United States, transforms lives by delivering medicine breakthroughs, clinical excellence, and access solutions to patients afflicted with rare and devastating conditions. Although the incidence is as common as diabetes, less than 7% of the 7,000 known rare and devastating disorders have an approved therapy. Changes in federal policy and advances in science have led to a surge in FDA orphan drug approvals, providing tremendous hope to the rare disease community.
PANTHERx was recently awarded Specialty Pharmacy of the Year by the National Association of Specialty Pharmacy (NASP) and earned the inaugural Accredited Distinction in Rare Diseases and Orphan Drugs from the Accreditation Commission for Health Care (ACHC). PANTHERx is a three-time winner of the prestigious MMIT Patient Choice Award, including the 2020 honor. PANTHERx is headquartered in Pittsburgh, Pennsylvania, licensed in all 50 states, and holds accreditations from URAC, NABP, and ACHC.
About Energage
Energage offers a fully unified SaaS platform, plus support and professional services, to help organizations recruit and retain the right talent. As a B-Corporation founding member, Energage has committed itself to the purpose of making the world a better place to work together. Based on 14 years of culture research, the engine behind 51 Top Workplaces programs across the country, and data gathered from over 20 million employees at 60,000 organizations, Energage has isolated the 15 drivers of engaged cultures that are critical to the success of any business, and developed the tools and expertise to help organizations measure, shape and showcase their unique culture to achieve a sustainable competitive advantage. For more information, please visit energage.com.