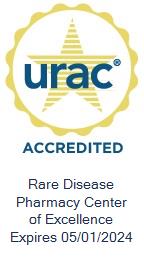 PANTHERx Rare is excited to announce that it has earned URAC's Rare Disease Center of Excellence Designation. This distinction, given only to pharmacies that establish the high level of skill required to serve patients with rare diseases, demonstrates the continued commitment from PANTHERx to serve people living with rare and devastating conditions.
PANTHERx maintains high program standards that address patient management, staff education, coordinated patient care, and comprehensive data reporting. This creates numerous benefits for people who receive their medications from PANTHERx, as the company can provide a more customized and high touch approach to care. Instead of the one-size fits all approach, the tailored, individualized programs created by PANTHERx become the standard of care for patients with rare diseases. PANTHERx has distinguished itself in the market as a rare disease pharmacy and provides a high level of care that patients have come to expect.
"PANTHERx is proud to be recognized by URAC for the efforts we have made on behalf of our patients and for the betterment of the rare disease community. As the rare pharmacy industry gains increased recognition, PANTHERx is honored to be at the forefront, pioneering enhanced patient services, refined data collection and reporting, and compassionate patient care," said Rob Snyder, President of PANTHERx. "This URAC distinction is a public acknowledgement of pharmacy quality to help ensure people living with rare disorders receive the highest quality of care that the industry has to offer."
About PANTHERx Rare
PANTHERx, part of Envolve Pharmacy Solutions, is one of the largest and fastest growing rare pharmacies in the United States. PANTHERx transforms lives by delivering medicine breakthroughs, clinical excellence, and access solutions to patients living with rare and devastating conditions. Although the overall incidence of rare diseases is as common as diabetes, less than 7% of the 7,000 known rare and devastating disorders have an approved therapy. Changes in federal policy and advances in science have led to a surge in FDA orphan drug approvals, providing tremendous hope to the rare disease community.
PANTHERx was recently awarded Specialty Pharmacy of the Year by the National Association of Specialty Pharmacy (NASP) and earned the inaugural Accredited Distinction in Rare Diseases and Orphan Drugs from the Accreditation Commission for Health Care (ACHC). PANTHERx is a three-time winner of the prestigious MMIT Patient Choice Award, including the 2020 honor. PANTHERx is headquartered in Pittsburgh, Pennsylvania, licensed in all 50 states, and holds accreditations from URAC, NABP, and ACHC.
About URAC
Founded in 1990 as a non-profit organization, URAC is the independent leader in promoting health care quality and patient safety through renowned accreditation programs. URAC develops its evidence-based standards in collaboration with a wide array of stakeholders and industry experts. URAC's portfolio of accreditation and certification programs span the health care industry, addressing pharmacies, health care management and operations, telehealth, health plans, medical practices and more. URAC accreditation is a symbol of excellence for organizations to showcase their validated commitment to quality and accountability. Learn more at https://www.urac.org/