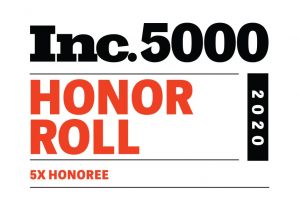 PANTHERx Rare Pharmacy announces that it has, for a 5th time, been named to the Inc. 5000 list, celebrating the fastest-growing private companies in America. PANTHERx is being recognized on this prestigious national list in the top 25% of fastest growing companies overall and the 83rd fastest growing company in Health.
Click here to view PANTHERx's Inc. 5,000 profile.
About Our Inc. Standings
Over the last 40+ years, tens of thousands of companies have applied to the Inc. 5,000 and only a fraction have made the list more than once. This year PANTHERx Rare joins an exclusive group, the Inc. 5000 Honor Roll, recognizing companies that have made the list 5 or more times. PANTHERx's standings over the last 5 years have included the following ranks; #1,154 (2020), #268 (2019), #49 (2018), #65 (2017), and #9 (2016).
"PANTHERx Rare is proud to be ranked on the Inc. 5,000 list for a fifth consecutive year. Although our magnitude of absolute growth is higher than ever, once you build a multi-billion dollar business, you can't grow at the rates we did when we were smaller. In the time since PANTHERx made its debut on the Inc. 5,000 list we have opened a new state-of-the-art facility, launched a new brand, created a new industry (rare pharmacy), added numerous associates and partners to the PANTHERx family, and, most importantly, positively impacted the lives of tens of thousands of rare disease patients across the US," said Dr. Gordon J. Vanscoy, Chairman and CEO. "We continue to innovative and advance the rare pharmacy industry, evolving to meet new challenges that address the needs of our partners, prescribers, and our patients."
PANTHERx Rare will be recognized among other Inc. 5000 honorees at the Inc. 5000 Vision Conference, a weeklong virtual event and celebration, taking place October 19-23, 2020.
About PANTHERx Rare Pharmacy
PANTHERx Rare Pharmacy, the largest independent and fastest growing specialty pharmacy in the United States, transforms lives by delivering medicine breakthroughs, clinical excellence, and access solutions to patients afflicted with rare and devastating conditions. Although the incidence is as common as diabetes, less than 7% of the 7,000 known rare and devastating disorders have an approved therapy. Changes in federal policy and advances in science have led to a surge in FDA orphan drug approvals, providing tremendous hope to the rare disease community.
PANTHERx was recently awarded Specialty Pharmacy of the Year by the National Association of Specialty Pharmacy (NASP) and earned the inaugural Accredited Distinction in Rare Diseases and Orphan Drugs from the Accreditation Commission for Health Care (ACHC). PANTHERx is a three-time winner of the prestigious MMIT Patient Choice Award, including the 2020 honor. PANTHERx is headquartered in Pittsburgh, Pennsylvania, licensed in all 50 states, and holds accreditations from URAC, NABP, and ACHC.