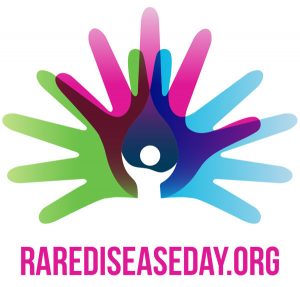 The History of Rare Disease Day
On February 29th, 2008, EURORDIS, a non-profit patient alliance of now nearly one thousand organizations from 73 countries, celebrated the first Rare Disease Day with its Council of National Alliances across Europe. Leap Day was specifically chosen for this special designation as it is a "rare" day that occurs only once every four years. Although advocating for rare diseases is a constant determination, setting aside a special day for combined efforts provides an avenue for patients, specialists, policy makers, activists, and support organizations across the world to amplify the voice of the rare disease community.
Over the last fourteen years, the final day of February has been a day of hope, celebration, and awareness for people and families living with the daily repercussions of rare diseases. This globally coordinated movement has played a critical part in building the rare disease community to the force it is today, working towards equity in social opportunity, healthcare, and access to diagnosis and therapies for people living with a rare disease.
Rare Disease Day provides an energy and focal point that enables rare diseases advocacy work to progress on the local, national, and international levels, through people and organizations that are multi-disease and diverse, but united in purpose.
Defining Rare Pharmacy
PANTHERx was founded with the mission to transform lives by delivering medical breakthroughs, clinical excellence, and access solutions to people living with rare and devastating conditions. Since our founding, PANTHERx has grown to dispense 25+ rare and orphan medications while supporting tens of thousands of patients across the country through our proprietary RxARECARE® programs and SWFT® technology systems.
"Rare Disease Day is a chance for us to celebrate the lives improved, the research performed, the medications launched, and the hope created, with our patients, associates, partners, and the rare disease community we serve," said Rob Snyder, President of PANTHERx. "We are immeasurably proud of the role that PANTHERx and our associates have played in the health journeys of patients and families across the country. We are constantly evolving to meet the needs of new patient populations and expanded indications, while taping into elevated technology, and prioritizing the varying personal goals and preferences of the patients who are at the center of all we do. The passion and purpose of Rare Disease Day helps to fuel the fire for organizations like ours to continue to fervently pursue improved health outcomes for our patients."
PANTHERx offers dozens of enhanced fully customizable services to our patients and partners ranging from rapid refill capabilities and patient text notifications to custom fulfillment and shipping solutions, and tailored data analytic suites. Our clinical and technical capabilities shine in each of our programs, but it is our personal touch, our ethos of sincere care, that sets PANTHERx apart.
Showing Your Support
Everyone, including individuals, families, caregivers, healthcare professionals, researchers, clinicians, policy makers, industry representatives, and the general public, can participate in raising awareness and taking action today for people living with rare diseases. Visit rarediseaseday.org to find information about the thousands of events happening around the world in celebration of rare diseases. Follow PANTHERx on social media and like, comment on, and repost our Rare Disease Day posts to spread the word about this important day with your family, friends, and connections.
To download your own digital and printable media, please visit https://www.rarediseaseday.org/downloads/ We always love to hear from you – tag us in your posts!
About PANTHERx Rare
PANTHERx Rare is one of the largest and fastest growing rare pharmacies in the United States. PANTHERx transforms lives by delivering medicine breakthroughs, clinical excellence, and access solutions to people living with rare and devastating conditions. Although the overall incidence of rare diseases is as common as diabetes, less than 7% of the 7,000 known rare and devastating disorders have an FDA-approved therapy. Changes in federal policy and advances in science have led to a surge in FDA orphan drug approvals, providing tremendous hope to the rare disease community.
PANTHERx was recently awarded Specialty Pharmacy of the Year by the National Association of Specialty Pharmacy (NASP) and earned the inaugural Accredited Distinction in Rare Diseases and Orphan Drugs from the Accreditation Commission for Health Care (ACHC). PANTHERx is a four-time winner of the prestigious MMIT Patient Choice Award, including the 2021 honor. PANTHERx is headquartered in Pittsburgh, Pennsylvania, licensed in all 50 states, and holds accreditations from URAC, NABP, and ACHC.