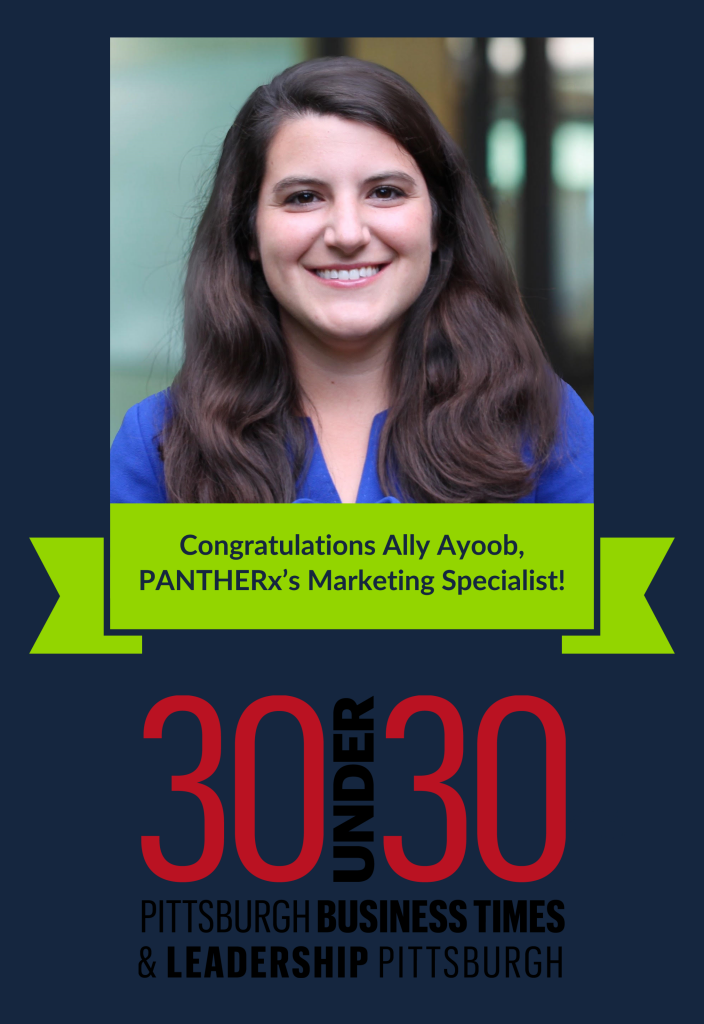 PANTHERx Rare is proud to congratulate our Marketing Specialist, Ally Ayoob, on her recognition as a 2020 Pittsburgh Business Times 30 Under 30 honoree. Each year, The Pittsburgh Business Times identifies 30 individuals under the age of 30 years, who have accomplished exceptional career milestones and made great contributions to our Pittsburgh community. The 2020 honorees represent a wide range of industries, including rare pharmacy services, law, technology, manufacturing, and more.
"I am sincerely honored to be recognized by the Pittsburgh Business Times as a 30 Under 30 awardee," said Ally Ayoob. "I share the honor with PANTHERx Rare, an organization whose brand and I have grown tremendously together over the past 2 years. I am proud of my efforts to reinvigorate PANTHERx's brand, showcasing our authentic dedication to the rare disease community and our commitment to propelling the industry forward. Our brand reflects this now more than ever and I savor the challenge and opportunity of serving as it steward as we continue our mission to define rare and serve the people most in need of our care."
Numerous previous recipients of the 30 Under 30 award continue to influence Pittsburgh's businesses, serving as executives, innovators, and thought leaders in our organizations and communities. Click here to meet the 30 Under 30 Class of 2020.
About Ally Ayoob
As PANTHERx Rare's Marketing Specialist, Ally leads the effort to create and share the company's image and messaging to both internal associates as well as external prospects and stakeholders. Her creativity is demonstrated in PANTHERx Rare's recent rebrand, the company's new website, biopharma and payor presentations, physician campaigns, and patient materials. Her collaboration with all PANTHERx departments reveals her passion for PANTHER's mission and vision, as well as her perseverance to achieve perfection in delivering the company's message. Ally graduated from the University of Dayton in 2018 where she received her Bachelor of Science in Business Administration with degrees in Entrepreneurship and Marketing.
About PANTHERx Rare
PANTHERx Rare Pharmacy, the largest independent and fastest growing specialty pharmacy in the United States, transforms lives by delivering medicine breakthroughs, clinical excellence, and access solutions to patients afflicted with rare and devastating conditions. Although the incidence is as common as diabetes, less than 7% of the 7,000 known rare and devastating disorders have an approved therapy. Changes in federal policy and advances in science have led to a surge in FDA orphan drug approvals, providing tremendous hope to the rare disease community.
PANTHERx was recently awarded Specialty Pharmacy of the Year by the National Association of Specialty Pharmacy (NASP) and earned the inaugural Accredited Distinction in Rare Diseases and Orphan Drugs from the Accreditation Commission for Health Care (ACHC). PANTHERx is a three-time winner of the prestigious MMIT Patient Choice Award including the 2020 honor. PANTHERx is headquartered in Pittsburgh, Pennsylvania, licensed in all 50 states, and holds accreditations from URAC, NABP, ACHC, and CPPA.