PANTHERx® Specialty Pharmacy, THE Rare Disease SP®, announces that is has been named 2018-2019 Specialty Pharmacy of the Year by the National Association of Specialty Pharmacy (NASP). The prestigious award was presented by the NASP President at the sixth annual National Association of Specialty Pharmacy (NASP) Meeting this morning in Washington, D.C. Of the 1,200 corporate association members, PANTHERx® Specialty Pharmacy took home the top title, adding a second Specialty Pharmacy of the Year recognition to its list of impressive awards this year.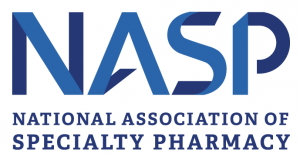 About NASP & the Specialty Pharmacy of the Year Award
NASP works on behalf of retail and specialty pharmacies, drug distributors and hospital systems to advance the practice of specialty pharmacy by maintaining close involvement with legislative and regulatory efforts. The Specialty Pharmacy of the Year award is a peer-nominated and peer-reviewed award that goes to the organization that has done the most over the past year to advance patient care and the practice of specialty pharmacy, while upholding the values of NASP.
PANTHERx Specialty Pharmacy was recognized for exemplifying the practice of pharmacy in the field of specialty, based on community involvement, patient satisfaction, cost management, innovation in the field, and quality/performance improvement initiatives, which includes patient care and outcomes, disease state and therapy management, and patient engagement.
"PANTHERx Specialty Pharmacy is proud to receive such an honor. To be awarded Specialty Pharmacy of the Year is a great achievement not only because we were recognized by our peers as best in class, but because it emphasizes our commitment to going the extra mile for our patients by providing white-glove services, which present them with the opportunity and hope of better life. PANTHERx® excels by seamlessly bridging the continuum of care that exists between patient, pharmacy, and prescriber. With courage and discipline, we work harder and smarter each day to deliver unsurpassed medication experiences for our orphan and rare disease patients and partners. This award reaffirms that we are working in the right direction and making a difference in the industry" Dr. Gordon J. Vanscoy, Chairman and CEO.
About PANTHERx® Specialty Pharmacy
PANTHERx® Specialty Pharmacy, The Rare Disease Specialty Pharmacy®, is an industry leading national specialty pharmacy headquartered in Pittsburgh, Pennsylvania. PANTHERx® Specialty's mission is to transform lives by delivering medical breakthroughs, clinical excellence, and access solutions to patients afflicted with rare and devastating conditions. Every day we create ways to Reinvent Specialty, Revolutionize Pharmacy, and Redefine Care, by developing focused solutions, bold innovations, and novel clinical services associated with the life-transforming therapies that we deliver.
In addition to this recognition from NASP, PANTHERx® Specialty has been awarded the American Pharmacy Purchasing Association 2018 Specialty Pharmacy of the Year, the Zitter Health Insights Specialty Pharmacy Patient Choice Award* winner in both 2017 and 2018, a 2018 Best Places to Work in Healthcare by Modern Healthcare magazine and a Best Place to Work in Pittsburgh by the Pittsburgh Post Gazette, and ranked #49 in the 2018 Inc. 5000 List of Fastest Growing Private Companies in the nation (top 100 for the last three years). Learn more at www.pantherxrare.com.
For further information, please contact media@pantherspecialty.com.